Jeffrey A. Dering as Fine Artist and Illustrator.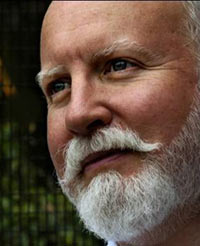 Art, design, history and museums have inspired Jeffrey's life since childhood. By age sixteen, he had won a first place at Yale University's Student Art Show for his oil painting. During his university years, Jeffrey spent two years of individual study with Pulitzer Award-winner, Professor Rudolph F. Zallinger ("The Dinosaur Man"), Artist-in-Residence at Yale University's Peabody Museum of Natural History.
Jeffrey applied his creative skills in the business sector as commercial art director, creative director, architectural designer and museum designer.
From 1972 through 1998 Jeffrey gained national recognition as a fine artist for his commissioned illustration, wildlife art and figurative portraits.
In describing the evolution of his painting styles, Jeffrey recalls, "when I was nine, my school went to the Museum of Natural History in NYC. The fieldtrip changed my life. The dioramas amazed me. The backgrounds were painted so realistically I could not tell where the foreground merged into the painted background. What was real, what was not? I had no idea this fieldtrip would influence my personal art and was responsible for my passion in designing cultural attractions and museum exhibitions which inspire and educate."
"There are two diverse styles to my painting", stated Jeffrey. "I am intrigued by details of photo realism, often reflected in my wildlife art and figurative portraits. My other side is motivated to combine elements of realism with design elements of color, texture and positive-negative shapes. I often begin by designing small, detailed collage 'studies' using mixed media and paper. I translate my studies into large, complex, abstract and expressionistic 'painted symphonies', immersing the viewer into worlds which balance both natural elements of ecological 'biotopes' with symbolism of human technology."
"There are questions", Jeffrey poses, "Is my art a galactic landscape or a micro-scape? Is it nature, technology, or both? Does it represent past, present or future?"
In addition to his personal fine art, Jeffrey continues to serve as an expert consultant in cultural attractions, exhibitions and museums, as well as a fine art consultant to private clients and museums.
If you have interest in purchasing original art by Jeffrey A. Dering please visit Emillions Art.
Original Art by Jeffrey A. Dering